Sr. High Super Camp
For students entering the 8th-12th grades
NEW FOR 2015!!
Looking for a SUPER good time and a longer Sr. High camp experience? Then this week is for you!! What is SUPER Camp?! It is a camp designed for you to flip out for our exciting classic activities that you have come to know and love at TCBC…PLUS freak out over the new SUPER activities only offered during this week, including a late-night surprise adventure that will be a blast!
Exciting Activities:
Climbing wall – Our 28 ft. climbing wall is just perfect for campers to try out their strength and daring as they ascend to the ceiling of the gym.
BMX Biking – Speed around our BMX track while trying to catch some air. Bikes and safety equipment are supplied, you just bring the excitement and nerve.
Go Karts – Campers have the opportunity to ride the Go Karts around the track, during Go Kart Klub or track rides.
Swimming- Enjoy swimming in our two pools, going down the slide and taking a jump off the diving board!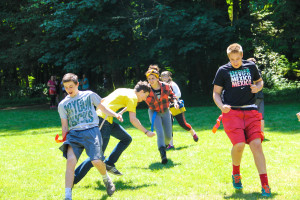 Zip Line– Speed down our 150′ zip line for what is sure to be an exhilarating ride.
Mountain Biking– Use our equipment to explore the acreage around the camp. Ride the trails and go places you never knew existed.
Optional Activities: