Rockin' Raft
For campers entering 9th -12th grades


Does spending the week roaring down rapids and drinking up the sun sound like your idea of a great week?!
Then do we have a camp for you!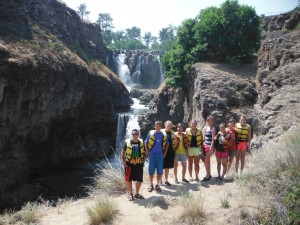 You'll spend three days in Central Oregon enjoying different kinds of water adventures. You'll arrive at camp on the first day and get settled in for a full day of fun on the campgrounds. Doing all of the classic camp activities you have always enjoined! Then, on Tuesday morning, you will be transported to the Deschutes River in Central Oregon for a one full day of white water rafting and two full days of kayaking on the calmer waters of the lower Deschutes. Each night will be spent camping in the great outdoors under the stars. What an opportunity to see incredible scenery and learn about God's great creation in nature and His love for you-His greatest creation.
This trip is a joint venture with Peak 7 Adventures who will provide all the necessary equipment for safety and enjoyment.
PLEASE NOTE: All rafting participants must fill out the Rafting Forms in addition to the standard Trout Creek registration form.  Thanks.