Junior Super
For kids entering the 4th – 7th grades
4th – 7th graders will love the opportunity to spend an entire week at camp. From the moment they arrive on the grounds to the time they leave, campers will experience a great time of fun, games, activities, swimming, delicious food, Bible Studies, Chapel, Archery, BB guns, fireside and many other exciting opportunities. Counselors and staff are there to help campers experience new activities in a positive, fun atmosphere, while showing God's love to each one throughout the week.
Enjoy all of the exciting traditional activities offered in our regular Junior camps plus some SUPER fun activities and programs only offered during this week. In addition, we have expanded the age range this week to include campers entering the 7th grade! BONUS….For this camp only!!! A FREE TCBC t-shirt!
Exciting Activities:
Climbing wall – Our 28 ft. climbing wall is just perfect for campers to try out their strength and daring as they ascend to the ceiling of the gym.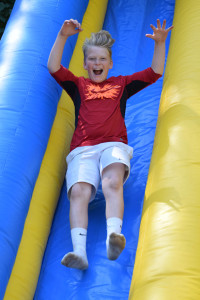 Go Karts – Junior campers have the opportunity to ride the Go Karts around the track, during Go Kart Klub or track rides.
Inflatables – Our bounce house and 20 ft. three lane slide are a blast to bounce around on and to race down.
Club Options – Each day, campers can choose from a variety of activity clubs where they will learn some new skills and have a blast. Most clubs are free of charge. Fees for other clubs will be paid using the camper's spending money.
Swimming– Enjoy swimming in our two pools, going down the slide and taking a jump off the diving board! Campers are asked to take a swim test, at the beginning of the week to help our staff monitor the swim time.
Plus all the classic camp activities you have always enjoined!