Jr./Sr. High Super
For students entering the 8th-12th grades
Looking for a super good time and a great camp experience? Then this week is for you!! What is Super Camp you ask?! It is a camp designed for you to flip out for our exciting classic activities that you have come to know and love at TCBC…PLUS freak out over the different Super activities only offered this week.
 Campers stay up later at night and experience many great activities and Trout Creek traditions, with a schedule that is more relaxed and geared towards their age. Counselors and staff will lead Bible Studies, and Chapel Speakers will challenge them, showing them God's love and how to live out their faith in the world today. During the week, campers will experience a great time of fun, games, late night activities, swimming, delicious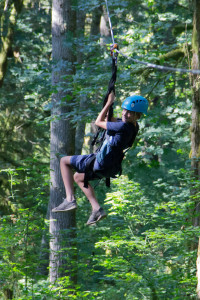 food, Bible Studies, Chapel, fireside, Climbing Wall, Go Kart riding, Paintball and many other exciting opportunities.
Exciting Activities: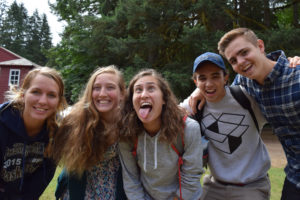 River Day Trip – Campers are bused to the Columbia River and enjoy an afternoon of getting wet while wading in the river, boating & jet skiing. While on the shore enjoy snacks, board games, volleyball and more! There are options for everyone to have a great time!
Climbing wall – Our 28 ft. climbing wall is just perfect for campers to try out their strength and daring as they ascend to the ceiling of the gym.
Go Karts – Jr. High campers have the opportunity to ride the Go Karts around the track, during Go Kart Klub or track rides.
Mountain Biking– Use our equipment to explore the acreage around the camp. Ride the trails and go places you never knew existed.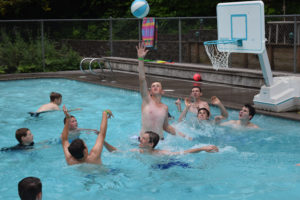 Paintball!-Get ready to be covered in paint, during Paintball Club or afternoon activity time.
Swimming– Enjoy swimming in our two pools, going down the slide and taking a jump off the diving board! Campers are asked to take a swim test, at the beginning of the week to help our staff monitor the swim time.
Zip Line Tour – Experience the thrill on our upgraded Zip Line Tour! Fly 150′ to the Crow's Nest, towering 75′ above the forest floor. Then clip on for the final 100′ of this exhilarating ride.
Swimming– Enjoy swimming in our two pools, going down the slide and taking a jump off the diving board!
Plus all the classic camp activities you have always enjoined!