Family Camp
 
July 5-8, 2018
Bring your family and come join us for a great time of fun, fellowship, great food, and Bible teaching! So if you want to invest in some great family time, plan to join us for Family Camp this summer. We look forward to seeing you!
---
 DAILY SCHEDULE

Thursday
4:00 p.m.
Registration
6:00 p.m.
Dinner
7:15 p.m.
General Session 1
Friday
8:30 a.m.
Breakfast
9:30 a.m.
General Session 2
12:30 p.m.
Lunch
6:00 p.m.
Dinner

Saturday
8:30 a.m.
Breakfast
9:30 a.m.
General Session 3
12:30 p.m.
Lunch
6:00 p.m.
Dinner
Sunday
8:30 a.m.
Breakfast
9:30 a.m.
General Session 4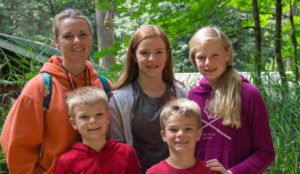 FAMILY CAMP FEES
Full-Time Fees
All fees include meals, lodging, and program. Children ages 0-5 are free.
Lodging
Per Adult
Per Youth
(13-17)
Per Child
(6-12)
Cabins


Bunk beds and 2 single beds. Sleeps up to 14-15. Central bathrooms.

$155
$135
$95
Upper Lodge


Individuals rooms above the Kitchen with central bathroom.

$155
$135
$95
Retreat Center
Across the street from the main campgrounds.
Individual rooms sleep 5-10. Central bathrooms.
$150
$135
$95
Tree House
Unique "home" built in a large tree.
Bunk beds sleep up to 14. No electricity or heat.
$145
$135
$95
Tent/RV


Provided by individual family. No hookups.

$135
$120
$95
Part-Time Fees 
The conference is geared for full time registrants, however, the following commuter rate of $35 per-person, per-day ($15 for children 6-12) is available for those unable to attend the entire conference. This includes program and meals. 24-hour notice is appreciated.
Children's Program
Children's program for children 3-years-old through 8th grade are provided during each General Session. Childcare for infants through 2-years-old is also available. Camp staff may be available for limited times to assist with childcare for infants and toddlers  while parents participate in camp activities.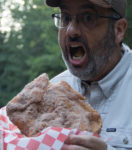 General Information
Family Camp is one of the highlights of the summer at Trout Creek. Families of all sizes and ages join us for a few days of fun, fellowship, and relaxation. Families can enjoy many activities, a great speaker and delicious, family-centered meal times.
A relaxed schedule leaves lots of time to spend together. We offer several options for housing including cabins and Retreat Center, or families can choose to bring their own housing including tents or RVs.
Activities
Archery
Basketball Tourney
BB Guns
Carpet Ball
Carpet Ball Tourney
Canoes
Crafts $.50-$10
Climbing Wall
Disc Golf
Disc Golf Tourney
Family Scavenger Hunt
Go Kart Riding (Drivers 8-years-old & up, Riders 5-years-old & up)
Hiking
Mountain Bikes (12- years-old & up)
Paintball $5 (12- years-old & up)
Rope Swings
Swimming
Zip Line Tour (12- years-old & up)
Speaker – Jim Baugh
Jim Baugh is a familiar name for those who have attended Family Camp in the past, having been the speaker for a number of years.  He and his family served at Mesa Baptist Church in Mesa, Arizona, for 16 years before Jim began his current ministry with Global Training Network.  He has been with GTN for ten years traveling throughout the world training indigenous leaders who can reach their own people, focusing mostly on Indonesia.  His passion is to help others grow in their love and knowledge of the Lord through expository Biblical teaching, and is excited to encourage families.  He also has a beautiful singing voice, which he uses to lead others into praise and worship.  He has been married to his wife, Teri, for 36 years and they have five grown children and five grandchildren.
What to Bring
Sleeping Bags & Pillows
Personal Items
Swimsuits (1 piece only)
Shoes, flip flops, sandals, etc.
Bibles
Flashlights
Towels
Dietary Information
The camp kitchen is able to work with some dietary needs*.  If camper will need to be restricted from any foods while at camp, please contact the Food Service Director prior to the camper session to confirm dietary needs and receive a list of available food substitutions.
*A $20 surcharge will be assessed to meet special dietary requirements, not including peanut and/or nut allergy.