Mother/Daughter Retreat
Now moms have an opportunity to experience camp just like their daughters have been enjoying for years!
Come join us for a Christ-centered & Biblically-based teaching,  practically-equipping retreat that benefit both mothers and daughters.
Price & FAQ's 
Cost: $75 per person 
Free T-Shirt when you register by April 25!
All fees include meals, lodging, and program. The messages, activities and program will be geared to mothers & daughters, 8-years-old and older.
Speaker this Year
Kim Harris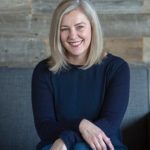 Kim is a follower and friend of Jesus, wife to Jerrad and Mama to Ben, Sam, and Grace. She serves on the staff team at Mosaic Church in Portland, most currently in the role of Executive Pastor. She is passionate about experiencing personal renewal through Jesus, and equipping women to truly believe his love for them, discover their gifting and call, and live fully into his dream for them. 
Fun Activities
Archery  //  Big Swings  //  Camp Store  //  Carpet Ball  //  Chapel  //  Climbing Wall  //  Crafts  //  Disc Golf  //  Gaga Ball  //  Mountain Bikes  //  Snak Shak  //  Tree House  //  Volleyball  //  Worship  //  Zip Line and so much more!
Arrival & Schedule
Check-in time is on Friday between 4 - 6 pm.
Departure time is 11:00am on Sunday.
See 2019's informational flyer!
Housing
Our cabins sleep 14-15 people. You can request roommates or we can place you in a cabin with other mothers and daughters.
Central restrooms with showers are located conveniently near cabin areas.
Packing List
Sleeping Bag & Pillow  //  Clothes for Sun & Rain (maybe a jacket too)  //  Active Wear  //  Toiletries  //  Flashlight  //  Extra Shoes  //  Towel  //  Bible & Notebook  //  Spending Money for Store & Snak Shak
Meals
Enjoy meals prepared by our expert kitchen staff, all meals will be served with mothers and daughters in mind.  Enjoy food without having to do the dishes!