Father/Son Retreat

Here's an opportunity for fathers to experience what their sons have been enjoying for years. Come join us for a Christ-centered, Biblically-based, practically-equipping retreat that will benefit both fathers and sons. Enjoy fellowship, great food, encouragement, and spending time together.
….
---
Price & FAQ's
Cost: $75 per person    
>> Free T-Shirt when you register by March 22nd! <<
All fees include meals, lodging, and program.  The messages, activities and program will be geared to sons, 8-years-old and older.
Fun Activities
Climbing Wall  //  Basketball //  Hiking //  Zip Line //  Paintball //  Games //  Disc Golf //  Carpet Ball //  Fishing //  Gaga Ball //  And much, much more!
Housing
Our new cabins sleep 14-15 people. You can request roommates or we can place you in a cabin with other dads and sons. Central restrooms with showers are located conveniently near cabin areas.
What to Bring
Sleeping Bag & Pillow //  Toiletries & Towel //  Flashlight //  Extra Shoes //  Bible //  Warm Clothes & Jacket //  Spending Money for Paintball, Store, Snak Shak
Meals
Prepared by our expert kitchen staff, all meals will be served with fathers and sons in mind.
Speaker ~ John Katsion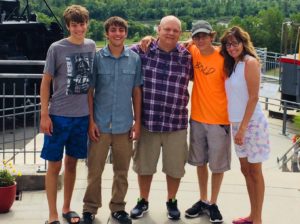 John has a passion for preaching and for making the Bible come alive through telling the stories of the Bible, as just that, a story. His story-telling approach to preaching is unique in that it seeks to preserve the narrative form that much of scripture was written in, while still conveying its powerful life-changing message.  John has been teaching at the University level for over 25 years and is currently an Associate Professor of Communication Studies at Northwest Missouri State University, in Maryville, MO. Dr. Katsion taught at Multnomah University in Portland, OR for four years, and Hannibal-LaGrange University, in Hannibal, MO for seven years.
He has been married for over 25 years to his beautiful wife Peggy, and they have three boys (Jacob, Lincoln, and Elijah) and a dog named Eddie. He likes watching movies and playing board and video games with his family. He also loves to play golf and follow the Chicago Bears and the Nebraska Cornhuskers, both of which are bad right now. He was born in Omaha Nebraska, but then grew up as a missionary kid in Jamaica and then England. John has his Ph.D. from Regent University, Virginia Beach, VA in Communication Studies and is an active member of Laura Street Baptist Church in Maryville, MO, where he works with the middle school youth ministry and leads a newlyweds' Sunday school class.
Dietary Information
The camp kitchen is able to work with some dietary needs*.  If camper will need to be restricted from any foods while at camp, please contact the Food Service Director prior to the camper session to confirm dietary needs and receive a list of available food substitutions.
*A $20 surcharge will be assessed to meet special dietary requirements, not including peanut and/or nut allergy.